You voted her your fav #NYbred turf female in @andyserling's recent poll… #flashbackFriday to Dayatthespa leading them in to the @santaanitapark stretch when taking the @BreedersCup Filly & Mare Turf! You can read all about it in our extensive archives.
https://twitter.com/nytbreeders/status/1251166849775144961?s=21
Dayatthespa gives NY breeding program historic first Grade 1 Breeders' Cup winner
Sunday, November 2nd, 2014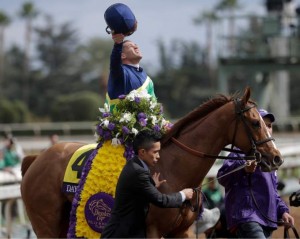 AP Photo/Benoit PhotoBy Sarah Mace
Dayatthespa, a 5-year-old daughter of City Zip bred by Castellare DiCracchiolo Stable, Cracchiolo & Goldsher, became the first New York-bred to bring home a victory in a Grade 1 Breeders' Cup World Championship race with a frontrunning triumph in the $2 million Breeders' Cup Filly and Mare Turf at Santa Anita on Saturday. Last year London Bridge became first New York-bred Breeders' Cup winner of any kind when he captured the now-discontinued Grade 2 Breeders' Cup Marathon.
Trained by Chad Brown for owners Jerry and Ronald Frankel, Steve Laymon and Bradley Thoroughbreds, Dayatthespa came into the Filly and Mare Turf in peak form, having powered home to win the Grade 1 First Lady at Keeneland at one-mile just four weeks earlier. Owner of the best speed on paper, the mare still had to answer the question of whether she could carry that speed to the 1 1/4-mile distance of the Turf in her first career attempt beyond nine furlongs.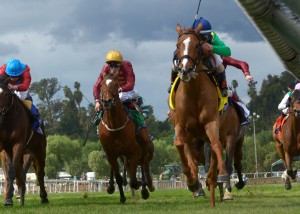 ©Skip Dickstein
Exiting post four under Javier Castellano, Dayatthespa sped to the lead as anticipated and, pressed by Parranda, clocked the the first half-mile in 48.37 and three-quarters in a comfortable 1:13.12. After a mile in 1:36.96, Dayatthespa inched away into the stretch, ultimately kicking clear and carrying on gamely to the wire to win by 1 1/4 lengths. She stopped the clock at 2:00.12 over the "good" turf course. (VIDEO and chart via Equibase Yearbook)
Stablemate Stephanie's Kitten finished second. It was half-length back to third-place finisher Just the Judge. Dank, the 2-1 favorite and defending Filly and Mare Turf winner, finished another head back to in fourth. Dayatthespa was the first New York-bred to compete in the Breeders' Cup Filly and Mare Turf,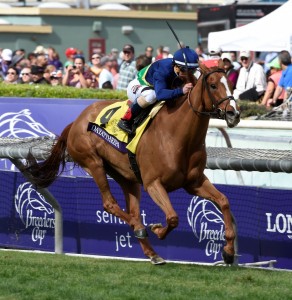 ©Skip Dickstein
Castellano, who piloted the mare to eight wins previously including a victory in the Grade 1 Queen Elizabeth II Challenge Cup in her sophomore year, said the race dynamics worked in his favor. "I thought she could get the distance if we could get away with a slow pace," said Castellano. "I was hoping we could go 24, 48, 1:13, and that's exactly what we did. When we got the three-quarters in 1:13, I thought to myself, 'We're going to steal this thing,' and we did."
Brown added, "Javier did an awesome job. He was able to set an easy pace. We knew that if she got a little tired (on the lead), Stephanie's Kitten would be coming, so we had it covered either way. I just wish there could be two winners. Both mares ran terrific."
In the post-race press conference, co-owner Steve Laymon, an optometrist from North Carolina, addressed the question of Dayatthespa's ability to get the distance. "A lot of folks didn't think she had a pedigree from City Zip, but her mother's full brother was a mile and a quarter horse, and it's kind of hidden in the pedigree," said Laymon. "So we always wanted her to have her on go long, and we finally got that chance."
Partner Jerry Frankel, a successful producer of Broadway shows, rejoined, "It's so easy to say these things now, by the way (laughing). Yeah, we were all feeling this, but it's so great when you have it. Thinking back you can really say, wow, we are great."
Bradley explained that Dayatthespa's New York-bred status played into his decision to bring her on board. "I was looking to put together a partnership of New York breds because of the purse money that was about to be available in New York with the casinos opening. It just turned out that we did a little better than we thought."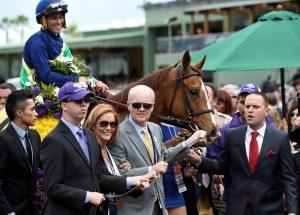 ©Skip Dickstein
Dayatthespa is now a three-time Grade 1 winner, with a record of 11 wins and four seconds from eighteen starts. Her $1,100,000 winner's share of the Breeders' Cup purse brings her earnings to $2,288,892, making her the third-highest New York-bred earner after Funny Cide ($3,529,412) and A Shin Forward, who raced exclusively in Japan ($3,421,360). The Breeders' Cup victory also puts Dayatthespa squarely into contention for female turf champion.
Dayatthespa is scheduled to be offered at The November Sale at Fasig-Tipton on Monday, November 3, 2014 as part of the Lane's End consignment. When asked about her appointment with the auctioneer, despite some apparent ambivalence from Frankel ("Oh, who knows") and Laymon ("Maybe"), all the partners agreed that "She'll definitely be at the sale ring, for sure."
https://www.nytbreeders.org/news/2014/11/02/dayatthespa-g1-bc-winner/