MarketWatch Interview: Peter Bradley
radley Thoroughbreds was represented by three stakes winners as an owner, buyer's agent, and pinhooker June 13-14. She's a Julie, campaigned by Bradley Thoroughbreds in partnership with Tim and Anna Cambron, Denali Stud, Rigney Racing, and Madaket Stables, battled for a nose victory in the Ogden Phipps Stakes (G1) at Belmont Park on Saturday, earning an automatic berth in the Nov. 7 Longines Breeders' Cup Distaff (G1) at Keeneland.
On Sunday, Team Hanley's Captain Bombastic, purchased by Bradley Thoroughbreds for $80,000 as agent at the 2019 Ocala Breeders' Sales March Sale of 2-Year-Olds in Training, took the Mike Lee Stakes at Belmont Park. That win was followed by Neptune's Storm, a Bradley yearling-to-2-year-old pinhook bought for $70,000 as agent and sold for $130,000, dueling to a head score in the San Francisco Mile Stakes (G3T) at Golden Gate Fields. BloodHorse MarketWatch spoke to Bradley Thoroughbreds' Peter Bradley about the operation's weekend success and the shape of the market following the OBS Spring Sale of 2-Year-Olds in Training.
MarketWatch: What did it mean to see She's a Julie get another grade 1 win?
Peter Bradley: She's such a big, pretty filly, and she's really kind of a barn favorite, starting with (trainer) Steve Asmussen. There's not a friendlier horse around the barn, and there's not a tougher one coming down the stretch. She has that heart and that desire that you hope you find in every horse you buy—you just don't. She's a special one.
MW: What did you like about She's a Julie when you bought in?
PB: I loved her as a yearling, and I tried to buy her then. She failed the vet for me, and I think she failed the vet for about 20 other people. Steve Asmussen was the only one that was smart enough to go ahead and buy her even with a few changes that she had on X-rays. Those obviously have not been a problem ever since. That's when I first saw her.
Then I found out in early July of 2018 that Carrol (Castille, owner of Whispering Oaks Farm) was contemplating selling part of her, and I got in touch with him. It all came together that we bought 75% of her at that time, and then we purchased the rest of her last year in October.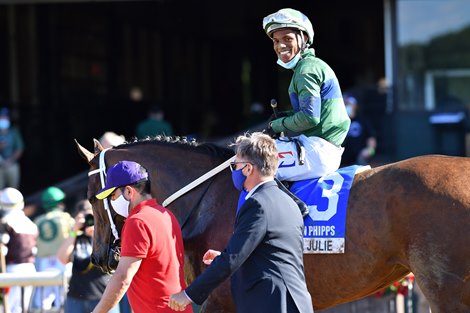 MW: She has the Distaff berth now. Would that be the goal after winning the Ogden Phipps?
PB: The "Win and You're In," absolutely. The Breeders' Cup is always a great finale for the year, and it's nice to have it here in our backyard.
MW: Are there any other races she could possibly turn up in this year?
PB: She ran in the Personal Ensign (G1) last year. I would think we take a hard look at that again. The Beldame (G2) back at Belmont is a mile and an eighth, again that kind of one-turn configuration, so that might be in the works. The Molly Pitcher (G3) is a possibility. At the end of the day, when Steve Asmussen says she's ready to run, I listen to that more than thinking out a plan myself.
MW: You pinhooked Neptune's Storm. What did you like about this horse when he was younger?
PB: He was a very well-balanced colt with a big engine on him. He always had kind of an attitude, which was pretty fun with him. Obviously, he's kept that. He was kind of one of those in-between pinhooks. We didn't make a lot of money on him, but we made a little. The good news is he's gone on to be a good racehorse.
We actually had a bit of a trifecta on stakes this weekend because Captain Bombastic is a colt we bought out of the OBS sale last year who won the Mike Lee at Belmont, so we had as good a weekend as you can hope for.
MW: Between the pinhooking, buying, and ownership success, what does it mean to showcase those different talents?
PB: The biggest part is the ability to pick out good racehorses. As I've said before, at the end of the day I'm a talent scout. Hopefully when you find talent, it then comes to fruition, and the top end of the fruition is finding stakes horses. That's as gratifying as it gets right there.
MW: What stood out about Captain Bombastic as a 2-year-old?
PB: It kind of starts with the frame and the athleticism. He put in a very solid work. He went down there and did it the right way, looked good doing it. You look for an athlete. We're not the only ones doing it. Once in a while, we get lucky and land on one that's a little less than everybody else wants to pay for, and that's what happened with him.
MW: Whether it's a weanling, yearling, 2-year-old, or a racehorse, what qualities do you look for in the horses you're buying?
PB: First off, you always want to find an athlete, a horse that has a good balance to him, in some ways a good walk. Conformation is always important as far as what the knees and ankles—what the wheels—look like. I think you have to be even pickier in that area when you're pinhooking, and that doesn't mean that you're lackadaisical if you're buying to race. I think that you can see a horse that you know is sound but maybe is a bit more offset. The market might not be for it the next time around, whether it's a weanling to a yearling or a yearling to a 2-year-old, so you have to take that into account.
When I buy 2-year-olds, in particular for racehorses, yes, I want the athlete. I don't want a crooked horse. But if I see a horse and he's using himself well and he looks balanced when he's breezing, I'll give him the benefit of the doubt on exactly how their wheels are screwed on.
MW: Being active at the OBS Spring sale, what were your thoughts on the sale and the current market down there?
PB: A key word in the last few years has been "polarized," and I think it's overused, but I think this was even more polarized than in the past, obviously. I thought the top end of the market held up extremely well to the point that those horses that were in the top 10-15%, I don't think they brought any less this year than they would have last year. It's always good to see a strong point in the market, and that was the strong point.
However, the balance of the market I thought really suffered. In the bottom of the market there were some people there, but there certainly weren't the number of buyers that we usually see in that Spring sale. … I think you're going to see a lot more buybacks and a lot more scratches on those horses that are in that mid-range and lower end of the market.
MW: Did you think there were value buys outside the top level with the current market?
PB: Yeah, I do. We bought three horses out of there I think were very good value for what we bought. I chased some horses I really liked that I was trying to "get a value on," and they were bringing twice what I thought my value play was. It's kind of a double-edged sword. The horses that jump through the hoops, that are athletic, that put in a good work, they were tough to buy, still. That doesn't mean that there wasn't some value there, but if they did what they were supposed to do, there were buyers for them. If they were the kind of horse that somebody would take a little bit of a chink in the armor and buy them, I think those people weren't there.
There was nobody internationally that could come in. If you were not an American national, you couldn't come in from Asia. They lost Korean buyers and Japanese buyers. The guys who come up from the Caribbean, none of those guys were there. There are several sets of buyers that have come from Dubai and Saudi Arabia over the last couple of years; they couldn't make the sale. Some of the top European agents weren't there. When you miss that number of potential buyers, I think, all in all, the market held up pretty well as tough as it was.
MW: What are the keys to your success in racing, selling, and selecting horses?
PB: It always comes down to hard work. I think discipline has a lot to do with it. I think as much as anything, when you have a client base that has limits on what they'll spend, it's a hindrance to making money, but it's helpful in finding good product at a good price.
MW: Any other thoughts?
PB: I think the biggest thing is we got racing back going again. The more races we have and the sooner the economy opens up, in a business like ours, you need that. You need disposable income to make this game work. We're so dependent on the economy that we need to see it open up, and hopefully when it does, our market will start to rebound.
https://www.bloodhorse.com/horse-racing/articles/241812/bradley-had-big-weekend-as-owner-agent-and-pinhooker