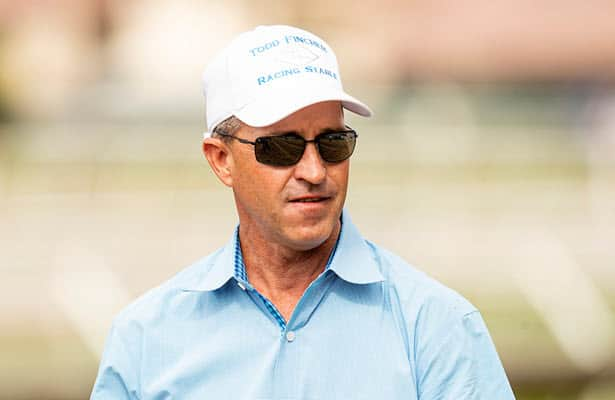 Photo: Evers / Eclipse Sportswire
The maiden race he had planned to enter did not fill.
For trainer Todd Fincher and Bye Bye Bobby, the choices were limited. Fincher decided to run the Quality Road colt in the Zia Park Juvenile Stakes on Nov. 23.
"My only option was to run him in the stake or don't run him," Fincher said. "Opportunities aren't very good for 2-year-olds in some places, but it turned out good."Click here to see Remington Park entries and results.
For the late-developing Bye Bye Bobby, the trial by fire went as well as it could have. He started off the pace in the six-furlong race before making up ground down the stretch and winning by 1 1/2 lengths.
The result was a bit surprising for his trainer.
"He really hasn't been very impressive to watch," Fincher said. "His times are always good, but just watching him train, he doesn't put a lot into it, he never bears down and runs. He's just a very late-maturing horse."
Now the colt, an $870,000 purchase at the 2020 Keeneland September yearling sale by B4 Farm, whom Fincher described as "just perfectly balanced," is entered to run in Friday's Springboard Mile at Remington Park. The race will be the first two-turn test for Bye Bye Bobby, who will have Roimes Chirinos in the irons.
Fincher thinks the Zia Park race woke up the colt, saying he has looked better in the mornings ahead of the Springboard Mile. Still, Fincher said he is unsure of what to expect.
"He's on a new track, he's going to be running under the lights and he's going to be going around two turns," Fincher said. "He's not a super aggressive horse, but he does rise to the occasion, so I expect him to run good."
The Springboard Mile field drew nine 2-year-old colts for Friday's event, but Osbourne's trainer, Ron Moquett, told Horse Racing Nation he is leaning toward running him instead in the Smarty Jones at Oaklawn on Jan. 1. Make It Big, running for trainer Saffie Joseph Jr., was made the 7-2 morning-line favorite.
The race is a 10-4-2-1 Kentucky Derby points race. But the use of Lasix is allowed, and any earned Derby points will be vacated for any top four finishers that run on the medication. A win by Bye Bye Bobby, who will run on Lasix, would be a repeat scenario for Fincher, who won the Springboard Mile last year with Señor Buscador, also on Lasix.
And just like last year, Fincher said he would take Bye Bye Bobby off the medication if he ran well enough to try another Derby prep, noting that the colt has never had a problem with bleeding.
"I believe it's the one medication they should never mess with, but that's the way it looks like it's going" Fincher said. "If we get down to that position, I don't have any problem taking him off."
Speaking of last year's Springboard Mile winner, Fincher said Señor Buscador, who has not raced since the 2020 Risen Star (G2), will return for 2022. The Mineshaft colt has dealt with several setbacks since his last race, most recently an infection.
"He came back super strong, looking outstanding and just got punched in the gut again with him," Fincher said. "We're just going to have to wait on him to get healed up and be ready."
The 2021 Springboard Mile is carded as Race 12 at Remington on Friday. It is scheduled to go to post at 11:28 p.m. EST.