Travers Stakes (G1) entrant cost $450,000 as a 2-year-old.
If the prototype of the ideal racehorse is an individual that has both the breeding and looks to negotiate two-turn dirt races as well as shows zip on the track, then Country Grammer fits the bill.
From the first crop of Lane's End stallion Tonalist , the 3-year-old colt has been installed at 6-1 morning-line odds for the $1 million Runhappy Travers Stakes (G1) at Saratoga Race Course. Eight horses were entered for the 1 1/4-mile "Mid-Summer Derby."
Trained by Chad Brown for Paul Pompa Jr., Country Grammer stamped his ticket to Saturday's race with an impressive victory in the July 16 Peter Pan Stakes (G3) at Saratoga. The Peter Pan was run at the same 1 1/8-mile distance at which the colt broke his maiden in his second career start at Belmont Park last fall.
The Peter Pan win improved Country Grammer's record to 2-0-1 from five starts for earnings of $117,320. The victory earned him 50 points on the Kentucky Derby Presented by Woodford Reserve (G1) leaderboard, placing him 11th on the starting list for the classic rescheduled to Sept. 5 this year.
"Hopefully, this horse can get the distance," said Brown, an upstate New York native seeking his first Travers victory with his 11th starter. "I'm confident that he can. He'll have to step forward in this race and hope that maybe some of the top contenders can't go this far.
"I'm always concerned for more time in between races with my horses, but this is a rare opportunity to take a shot at a race like the Travers. It's a shorter field than it usually is. This is such a unique year to give this a shot and the horse just keeps improving. Even on short rest, I think the reward is greater than the risk."
Bred in Kentucky by equine veterinarian Dr. Scott Pierce and his wife, Debbie Spike-Pierce, both of whom are associated with the Rood and Riddle Equine Hospital and operate Omega Farm in Central Kentucky, Country Grammer is out of the winning Forestry mare Arabian Song.
Country Grammer was consigned to the 2018 Keeneland September Yearling Sale by the Garrencasey Farm of Emma Quinn, who with her husband, Dermot, help manage Omega Farm.
The colt was purchased at Keeneland by agent Brooke Hubbard as a 2-year-old pinhook prospect for $65,000, and later was sent through the sales ring at the 2019 Ocala Breeders' Sales Spring 2-Year-Olds in Training Sale.
Consigned by Ciaran Dunne's Wavertree Stables, the colt was then purchased by Pete Bradley's Bradley Thoroughbreds for $450,000 after breezing a quarter-mile in :21 during the pre-sale under tack show workout.
"He was a real immature, backward-type of colt," Dunne said of the youngster when he arrived at his Florida training center to be prepared for the 2-year-old sale. "He was a later foal (May 11, 2017) and very immature when he came out of the September sale. That's why he was always targeted for OBS April.
"He was a very straightforward colt to be around and he blossomed in the spring," the horseman recalled. "He was unrecognizable physically in April from the colt he was in September. He was very light on his feet and he had a really high cruising speed when he trained. He had enough size, but he was lean and that is what they want today. He just did everything right. He was a good-moving colt who worked quick enough to make all the railbirds happy at OBS."
Dunne said Country Grammer's emergence as a top 3-year-old was a credit to Hubbard's eye for the future potential in a horse that might be a diamond in the rough as a yearling.
"She's a good judge, buying to either pinhook or to race," Dunne said, noting the agent had purchased Peter Pan winner Blended Citizen from Wavertree for $85,000. "She knows how to think outside the box. She understands she has a limited budget and can't buy the crème de la crème. She has to look for hidden potential. She looked at him and saw something that told her if everything goes right he could be worth the money. I don't think she ever saw $450,000.
"When buyers come to the 2-year-old sales they want two-turn dirt horses like this one but they want them to go fast," Dunne continued. "Pinhooking 101 should be if you can find a horse with a two-turn pedigree and make them go quick you're going to get paid."
"We had a short list of half a dozen horses at the OBS sale and this was one I really keyed in on," Bradley said. "I thought he was going to be affordable, given that he was by Tonalist. He worked really well but he was immature and I thought he would fall through the cracks. Obviously, at $450,000 he did not fall through the cracks. At the end of the day, if the performance dictates it, people spend a lot of money on 2-year-olds.
"Mr. Pompa liked what I said about the horse and he liked what his veterinarian said about the horse and to his credit we bought a nice horse," Bradley said. "A number of consignors told me last year that the Tonalist (foals) were acting like nice horses so I filed that away. This horse was sound and looked like he had some maturing to do; he wasn't a finished product. Every once in a while you get a gut feeling and it works."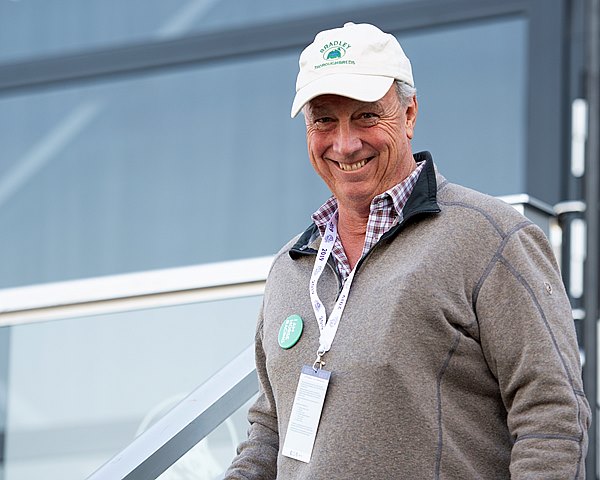 While agents like Bradley—who is based in Lexington—live to have horses they've found participate at the highest level and be there when it happens, he won't be part of Pompa's group permitted to attend the Travers under the COVID-19 restrictions in place by the New York Racing Association.
"An owner can take up to 20 people and I was ready to go, but then (New York Governor) Andrew Cuomo said anyone coming into the state from a group of states that includes Kentucky would have to quarantine for 14 days," Bradley said. "I didn't want to get up there and get caught up in something I shouldn't be doing. It's just tricky enough. It's disappointing."
While Country Grammer is taking a big step from the Peter Pan into elite company in the Travers, Bradley said he likes what he's hearing from Brown.
"Chad said earlier this week this horse has finally turned the corner maturity wise and he looks like a man and is a horse that's ready to run in a race with the stature of the Travers," Bradley said. "Chad has said this is a true 10-furlong horse. When you've got talent and can go 10 furlongs, that puts you in rarefied air. Not a lot of horses can do that."
https://www.bloodhorse.com/horse-racing/articles/242716/maturing-country-grammer-a-sale-score-for-bradley