First two horses from stable of late owner won Nov. 28 races at Aqueduct.
Brothers Paul Pompa III and Michael Pompa have already found their calling in the movie industry.
Working together as co-executive producers, they were the driving forces behind the critically acclaimed  "Untreated," a 2019 short film written and co-directed by Paul that tells the story of three drug addicts and their struggle to overcome their dependencies.
Whenever they decide to craft another film, the two brothers would be wise to look no further than the magical and emotional day they experienced Nov. 28 at Aqueduct Racetrack.
Life is filled with opportunities when it can unfold like it would in the pages of a storybook or the course of a Hollywood box office hit. But more times than not, reality steps in and spoils the greatly desired happy ending.
Yet what happened to the Pompa family last month, when they celebrated two incredibly moving wins at the Big A, defied probability and seemed to be lifted from a script rather than the normal course of events at one of the nation's leading racetracks.
Some seven weeks after the passing of Paul Pompa Jr., Paul III and Michael's father, they joined their mother, Elisa, and a group of family and friends Nov. 28 at Aqueduct to watch the first starts of horses owned by the family patriarch since his sudden death from a heart attack in his sleep Oct. 9.
With estate issues resolved, the initial horse to run under the banner of The Estate of Paul Pompa Jr. was Spirit Maker, a son of Empire Maker co-owned by WinStar Farm and trained by Todd Pletcher, who was making the initial start of his career.
While family members clutching mass cards of their beloved relative, Spirit Maker won by 1 3/4 lengths at 6-1 odds.
"As soon as the horse came out on the track in Paul's colors, everyone started to cry," said Jerry McClenin, Pompa's cousin who served as the racing manager for the New Jersey resident. "Then when he won, we were just overwhelmed with emotion."
Five races later, the estate's second horse, Turned Aside, ran in the Aqueduct Turf Sprint Championship. A 3-year-old colt by American Pharoah , he was the 5-1 second choice in the race, but asking fate for a second victory on such an sentimental day seemed a taller order than the price on the toteboard.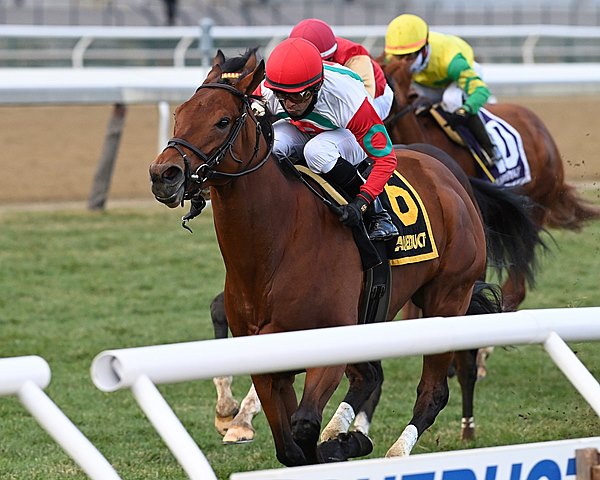 Perhaps it was some help from an angel that carried him across the wire first by 1 1/4 lengths.
"For a stable like ours, to win two races on the same day at a track like Aqueduct is incredible," McClenin said. "To have it happen on that day, when we were there for Paul, you can't write a script like that."
McClenin first started working at the racetrack in the late 1970s and says he has never experienced the wealth of emotions he felt that day when the goal was to honor the memory of the widely respected and popular Pompa, whose roughly 20 years of involvement as an owner included buying and then co-owning the 2008 dual classic winner Big Brown .
"When the family told me they wanted to come out, I warned them I wasn't sure if the horses would run well," McClenin said. "But they told me they wanted to be there for Paul. Todd had told me Spirit Maker could run a bit. He actually worked well on dirt, but he wanted to run him on the turf. I said why and he told me the horse looks like a turfer."
Spirit Maker started the cascade of emotion on the proper note. Ninth after the opening quarter-mile, he rallied from fourth at the eighth pole to capture the maiden special weight race on turf going away by 1 3/4 lengths.
"He looked totally beat and I wondered how everyone would handle it if he lost," McClenin said. "Then at the quarter pole, (jockey Jose) Lezcano tipped out and got him going. It was beautiful to see."
Pletcher could also sense all of the feelings rolled into the moment.
"It was a moving experience for everyone," Pletcher said. "They're a terrific family, and it was a great day for them. It was exciting to see the horse win but sad at the same time because Paul wasn't there. He was a super guy to train for. Very knowledgeable and all-around great guy."
McClenin also had some doubts over Turned Aside's chances, worried how the Linda Rice-trained 3-year-old would handle older stakes rivals.
"We thought he could be a real good turf sprinter at 4 or 5, maybe even run in the Breeders' Cup, but he's only 3," McClenin said. "Even Linda was telling family members it would be a hard race. But Lezcano sat on him and waited, and when he grabbed the lead in the stretch and I saw him look back, I knew it was over. When he crossed the wire, you couldn't believe what was happening."
Like the people around her, Rice was deeply touched by the moment that sparked so many memories of Pompa's life and thoughts of what he meant to so many people.
"I just wish Paul was here to see it," she said after Turned Aside's win. "It brings tears to my eyes with his family here, his brothers, his wife and sons. I just wish Paul could have been here today. He would have been so excited. Anyone who has crossed paths with Paul Pompa, I'm sure is going to miss him a lot. He was just a treasure to train for."
Though McClenin did his best to keep his feelings in check during the day, after the stakes win thoughts of his cherished late cousin filled his mind and he needed some time alone.
"I went off by myself and cried," he said.
On that day, he wasn't alone.
Pompa, who passed away at the age of 62, enjoyed considerable success in building Truck-Rite Corp. into a booming business before he retired earlier this year. During his 20 years as an owner, he also thrived, winning 407 races under his own name and compiling earnings of $21.7 million.
Big Brown was his brightest star. At McClenin's urging, he bought the son of Boundary for $190,000 from the consignment of Eddie Woods, agent, at the 2007 Keeneland April 2-Year-Olds in Training Sale because he also owned the colt's half brother Snake River Canyon. Off a whopping 11 3/4-length victory in his debut, McClenin said Pompa sold 75% of Big Brown to IEAH Stables for nearly $4 million.
Switched to trainer Rick Dutrow Jr., Big Brown won the 2008 Kentucky Derby Presented by Yum! Brands (G1), Preakness Stakes (G1), and Haskell Invitational Stakes (G1) and was victorious in seven of eight starts before he was retired to become a stallion.
"For Paul, winning the Kentucky Derby was an incredible thrill," McClenin said. "He probably had about 25 people with him that day. Even though the horse did not run in his colors, he loved every minute of it."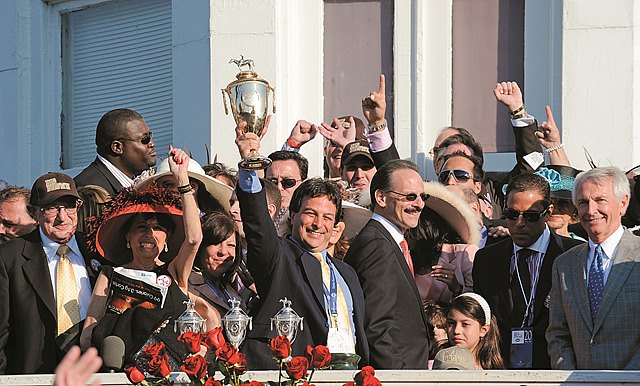 Pompa also owned the grade 1 winners Connect , who was trained by Chad Brown, and Backseat Rhythm, yet he fully understood how costly and time-consuming maintaining a racing stable can be. So about six years ago, while Pompa was battling cancer, he told McClenin that if he passed away, he wanted all of his horses sold to spare his family the burden of operating the stable.
Pompa beat cancer, but did not back away from his request to sell the horses should he die, and he kept it in his will.
Determined to follow his cousin's wishes, McClenin worked with Lane's End Farm to disperse 39 of Pompa's racehorses, weanlings, and broodmares at Keeneland's January Horses of All Ages Sale being held Jan. 11-14. That package of horses will include grade 3 winners Country Grammer and Regal Glory.
"Mr. Pompa's industry involvement was admirable on every level," Lane's End sales director Allaire Ryan said. "He was dedicated to and ever enthusiastic about his investments as a breeder, owner, and fan. He created strong relationships around a lifelong passion and never wavered from his philosophy to do right by his stock and enjoy the sport. The success of his breeding and racing operations is a direct result of his daily involvement with trainers, farm staff, agents, and caretakers alike. We have valued the opportunity to care for his horses at Lane's End and will be proud to stand behind his offerings at the January Sale."
Another nine horses who are turning 2 in January will be sold by Woods at 2-year-olds in training sales.
"The stable was really rolling and it's a punch in the gut to lose Paul at a time like this, but he believed it would be too much for his family to run the stable, so he wanted me to sell the horses for them," McClenin said. "Paul was good at running a business, there was no one else like him, but he knew how hard it is to make money in this game. As I like to say, 95% of the people in it don't make money and the other 5% lie."
While the horses are bound for sales, McClenin said some family members, inspired by the emotions sparked by their November day at the races, may elect to keep one or two of the horses.
One with a particularly strong emotional bond is an unraced 2-year-old son of Nyquist who was bought for $550,000 from the Ashview Farm consignment at the 2019 Keeneland September Yearling Sale and is progressing nicely for Brown for a debut that could come before the end of the month.
His name?
Untreated.
After the Pompa brothers' movie.
A show business name from a family who lived through a story at Aqueduct worthy of Hollywood.
https://www.bloodhorse.com/horse-racing/articles/245108/pompa-family-experiences-emotional-day-at-the-races