Award winner "literally knew nothing" about Thoroughbreds before getting his start.
Aaron West, the racing operations manager at Bradley Thoroughbreds, won the Newcomer Award at last month's Godolphin-sponsored Thoroughbred Industry Employee Awards. The graduate of the North American Racing Academy spoke to Racing Post about getting started from the ground up.
Racing Post: Was it a surprise to find out you had been nominated?
Aaron West: I would say I was most surprised to be a finalist. It was a surprise to be nominated, but I think even more so to be chosen by a panel of established professionals was more surprising. I still feel very green, and I also know I have been fortunate to work with a lot of people that I think are worthy of more recognition than myself.
RP: Where did your love of racing come from? Do you come from a racing background?
AW: Funnily enough, I have no background with horses. I got into racing by attending Oaklawn Park in Arkansas while I was in college. I cashed my first bet, and I was hooked! I followed the sport as a fan for almost 10 years before finding the North American Racing Academy.
RP: How did you get into the industry?
AW: As mentioned, I started going as a fan before deciding it was really where I wanted to work professionally. I started trying to find opportunities to get my foot in the door and decided an educational path would be best since I literally knew nothing about working hands-on with Thoroughbreds. I found the North American Racing Academy here in Lexington, quit my job, and moved to Kentucky to go back to school. It was an amazing experience as it is my foundation for where I am today!
RP: Who have been your biggest influences as you made your way in the sport? 
AW: I can't say enough about Dixie Kendall at the North American Racing Academy. She is the program coordinator and really took the time and interest to help develop my knowledge and horsemanship.
I worked at Lane's End after NARA for a little over two years. Lane's End Farm needs no introduction, but the managers I worked for such as Peter Sheehan, Andy Howard, Todd Claunch, Mike Cline, Billy Sellers, and Charles Campbell gave me every opportunity to learn and build my résumé and experience.
Lastly would be Peter R. Bradley III, who I currently work for at Bradley Thoroughbreds. He is the hardest-working person I have ever been around in my life, and the opportunities and experiences I have had here have been incredible.
RP: How long have you worked for Bradley Thoroughbreds, and what does your job entail?
AW: I have been at BT a little over two years, and I help to oversee our BT racehorses and pinhook horses. I work with Pete in finding races for our horses and updating clients. Additionally, on race days I take care of all the concierge work when clients are attending races. I take care of licensing and silks as well as running our website, social media, and shortlisting at any sales we attend.
RP: What would be your advice to young people wanting to work in racing?
AW: Take every opportunity to gain experience you can and work harder than everyone around you. If you have the work ethic, the knowledge and chances will come.
RP: What's the best part of your job? And what's the funniest thing that has happened while you have been there?
AW: The best part of my job is being at the races. Going to the races is what got me into the sport, and at the end of the day, I am still a fan.
I remember I had literally been working for Pete for less than a week, and we were having lunch at the Keeneland September Sale. We were flat-out slammed busy and eating lunch as fast as possible. I bit into a sandwich and my front tooth broke.
Needless to say, I was so embarrassed that I snuck away from the table and called my girlfriend (now fiancée). She told me obviously you have to tell Pete and go to the dentist. I missed the rest of the day and had to wear a retainer with a fake tooth for weeks!
RP: What have been the highlights of your time with them?
AW: She's a Julie is pretty hard to beat—I'll never forget (Kentucky) Oaks Day 2019, when she won the grade 1 La Troienne. Then to come back as a 5-year-old and win the Ogden Phipps (G1), and then to sell for $3 million at the "Night of the Stars" sale at Fasig-Tipton was very emotional and will be tough to duplicate.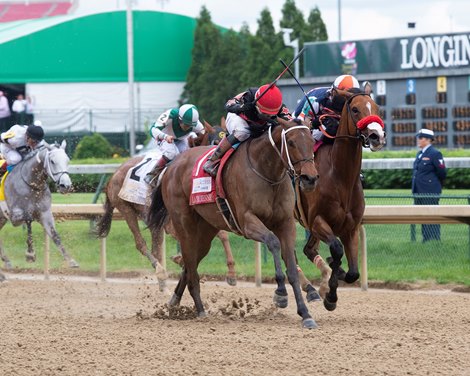 Pete helped with the syndication of City of Light , and being in the winner's circle for the Breeders' Cup Dirt Mile (G1) and the Pegasus (World Cup Invitational Stakes, G1) was awesome because I had been with Pete for only a few months at the time.
RP: Who is your favorite horse of all time and why?
AW: That's a tough one, but it would be Curlin . I first started attending Oaklawn Park in 2005, and during my college years horses such as Afleet Alex, Curlin, Lawyer Ron, Rachel Alexandra, and Zenyatta all ran there. I can remember seeing them all run clear as day, but Curlin is really the first horse I followed every little thing he did. It's a bit full circle to now have horses such as She's a Julie in training with Steve Asmussen.
RP: Can you give us a horse to look out for next year?
AW: We have an Argentinian mare named La Renoleta who could be special. She was undefeated in her native Argentina before we brought her to the U.S. Last spring, she won her U.S. debut at Oaklawn by 10 lengths. She was on track for the grade 1 Apple Blossom but had an injury that forced her to miss a few months. She is back in Steve's barn now and, fingers crossed, could be special!
For more European racing, sales, and bloodstock news, visit RacingPost.com.
https://www.bloodhorse.com/horse-racing/articles/245087/west-of-bradley-thoroughbreds-excels-from-ground-up